Campaigns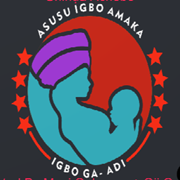 Since the early 1970s, the degree at which Ndigbo abandoned  our rich language and culture is disheartening.
As a result, the United Nations has projected that , "the Igbo language is trending towards extinction".  This disturbing trend MUST be stopped now before it is too late for our children to be a "Lost Battalion" in IGBO NATION and foreign lands. Any child who cannot speak or appreciate the God-given language and culture of his/her parents will regrettably be lost and/or confused within a very short TIME period. 
To reverse this ugly prediction by the UN and others, and make hay while the sun shines, Mother Tongue Academy (MTA) and Igbo Ga-Adị Movement have created the EASIEST and FASTEST ONLINE METHOD to learn the Igbo language within one hour.
Also Igbo Ga-Adị Movement has succeeded in translating Things Fall Apart into the Igbo Language thereby shattering the long JINX of neglecting the importance of the Author, Chinua Achebe's own rich Igbo  language. 
In view of the above, Mother Tongue Academy and Igbo Ga-Adị  will appreciate a cooperation or partnership for all hands to be on the deck to teach our children, youths and our foreign families,  Igbo language and culture now before it is too late. The mantra, Charity begins at home will  only be a lip service if Ndigbo do nothing  to pass on our language and culture to our younger generation. Nobody else will do it for us.
Please let's rise to "Igwebuikism" that is unique to Ndigbo all over the globe by donating "any iota of widow's might" for the promotion and propagation of Igbo Language and Culture. Your donation will help to train Igbo children as well as help procure equipment and gears needed to make sure Igboness does not wash ashore or drown in turbulent waters.
Together success will be ours in the long haul. Remember "Ibu Anyi Ndanda". Ndigbo can move any mountain with sheer WILL and DETERMINATION to hew Success out of an impending failure! Ndigbo Kwenu nka bụ Eziokwu! Ya Gazie!!!